Superior Buildings & Design is a commercial construction company and general contractor based in Alberta providing comprehensive Design | Build solutions since 1995. All of our services are offered the Superior Way - your project will be delivered on time and on budget.
DESIGN BUILD & PROFESSIONAL
CONSTRUCTION SERVICES
A leading commercial construction company based in Alberta, we are proud to provide a wide array of successful projects for clients all over Western Canada. From pre-engineered metal buildings to commercial tenant improvements and offices to industrial sites, not only do we build structures that stand the test of time, but we also build relationships with our partners, subcontractors, and employees. Established in 1995, our company is built on a foundation of diligently working towards your success, excellent work, and providing superior customer service. We are commercial contractors who specialize in Design-Build and our mission is delivering projects The Superior Way - on time and within budget.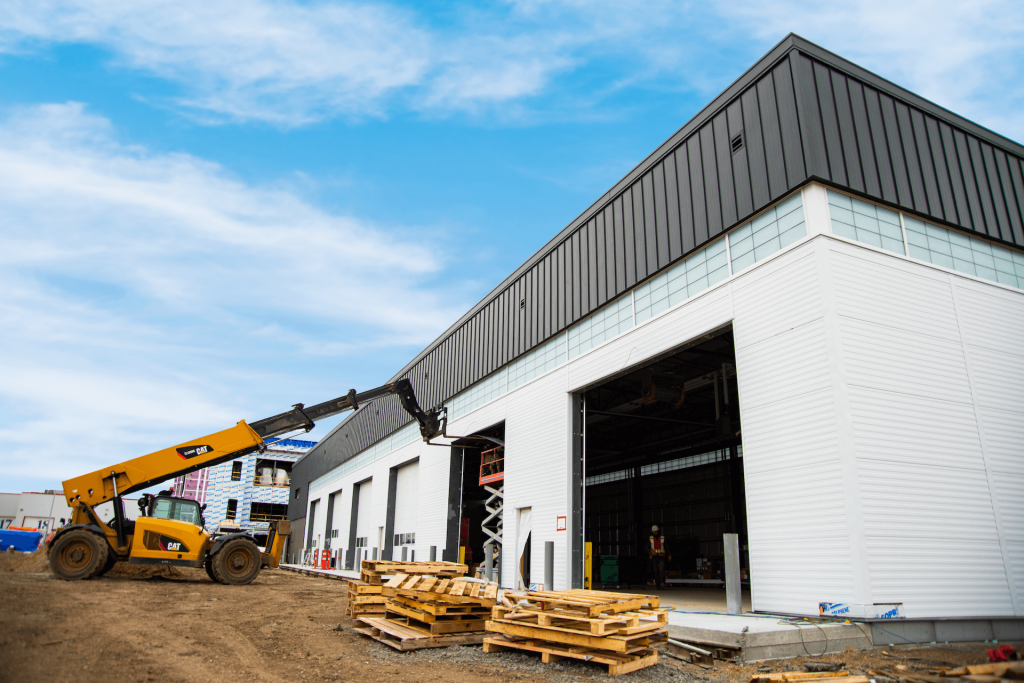 The Superior Way is simple - we deliver high quality projects on time and on budget. We achieve cost control for our clients through rigorous adherence to process, best practices for job safety, and local manufacturing. We believe our customers come first, our culture is built on a solid foundation of reliability, honesty and a "we build them as if they were our own" attitude. We are committed to exceeding customer expectations through all phases of your project. We specialize in design and build services and are a leading commercial general contractor and commercial construction company in Edmonton, Alberta, and all of Western Canada. Contact us for a complimentary consultation on your project.
Superior Buildings & Design handles various agricultural buildings, equestrian buildings, and farm buildings throughout Western Canada. While designs can vary depending on your particular budget and design needs, all are constructed with quality steel, durability, resistance to wind and snow load, and at the best possible price. Our freestanding structures are perfect for grain and equipment storage and livestock production. If you are looking for a reliable storage option on your farm, then steel is the only way to go. Not only will it protect all of your agricultural equipment from harsh weather conditions, but also its durability ensures long-term use and safety.
Superior Buildings & Design is experienced with all types of industrial buildings including petrochemical construction projects as well as commercial and institutional industrial building construction. These types of projects have very strict rules and guidelines. Superior Buildings & Design  has experience throughout Alberta building manufacturing centers, warehouses, factories and distribution centers, and more. Our  processes are designed around cost tracking and guaranteed scheduling toensure your project is completed on time and within budget – The Superior Way.
Commercial building renovations – many clients come to us wanting to know the cost of renovation vs new construction. Our team of experts will conduct a comprehensive assessment of your property or existing building, then create an accurate plan and budget for the construction or renovation project. No matter what type of building renovation service you need – Superior Building & Design can do your commercial construction and renovation at the right price. As a highly experienced general contractor, Superior Buildings & Design has the know-how to facilitate building renovation projects timely and effectively. 
Our team services many industries across Western Canada and leads the way for commercial construction in Edmonton, Alberta. Whether it's commercial building construction, agricultural buildings, or heavy industrial construction projects, we exceed customer expectations through all project phases. As the design-builder, Superior Buildings & Design provides comprehensive design and construction services through one point of contact. From concept to final build, we deliver projects on time and on budget. We lead the way for commercial construction companies in Canada when it comes to safety and cost control. 
We are a leading commercial construction company for tenant improvements in Calgary, Edmonton, and all of Western Canada. From small remodelling projects to an entire building facelift, Superior Buildings & Design has got you covered. We'll help you through the design process, ensure that you pick the best and most cost-effective material for the project, and see to it that the construction itself will disturb your tenants as little as possible. When you need a tenant improvement contractor call us for a complimentary quote.
We will work with you to ensure that your commercial maintenance keeps your building up to date and up to code. Superior Buildings & Design will work with you to ensure that your building is up to date and up to code. Not only can we help when it comes to emergency repairs, but we can also help ensure that your building requires less attention with regular maintenance that will help prolong the life of your building. Maintenance services include: Structural Repairs, Interior Maintenance, Electrical, Power and Water Repairs, Roof Repairs, Quick Fixes, And More…